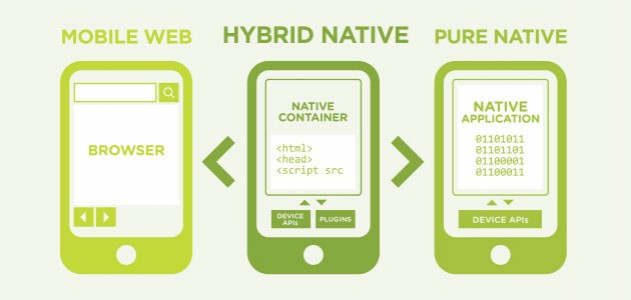 A mobile app is a computer software that is designed to run on smart mobile devices such as smartphones and tablet computers. Today using mobile apps has become a normal part of our day-to-day life at work and home.
When a business wants to invest in mobile app development, apart from choosing the mobile platform, it also has to choose between three basic types of mobile apps. Viz.
Native apps
Online (Web) apps
Hybrid apps
In this article, we will introduce all three types of mobile apps and highlight some of the advantages and disadvantages for the same.
Native App
Native apps are developed using the default programming language for the mobile platform viz. Objective C for iOS (Apple products) and Java for Android (Samsung, Google, etc.)
Native mobile apps closely integrated with the underlying mobile operating system and make full use of all the features and functions that are supported on the mobile device. Generally, native mobile apps are faster, often more secure and are able to interact with the users without an Internet connection. Popular mobile game Angry bird is a good example of a native app which makes full use of the underlying hardware and software capabilities to offer a superior user experience.
Online (Web) apps
These types of mobile app are fully reliant on the smart device having an Internet connection. Mobile apps developed as web apps are generally less interactive and often offer one-way information. This is because the mobile app development technology relies on a combination of HTML, CSS and JQuery technologies which have limitations on how they can interact with the mobile devices.
In spite of these limitations, when compared with the other two, a mobile app developed as Online (Web) app are the cheapest to develop and maintain. If a business wants to develop a simple mobile app to interact with their customers with minimal interaction, then this approach is more cost effective.
Hybrid apps
As the name suggests, these types of apps try to offer the best of both worlds when it comes to mobile app development. Any mobile app development company with enough experience will tell you that the hybrid app approach can pay huge dividends when it comes to maintenance and flexibility.
The idea here is to develop the core modules of the mobile apps using the native technology and use the web app approach for the periphery. For example, the mobile app module which shows the customer account balance or asks the user to provide several inputs can be developed using the native technology whereas the parts of the app such as help documentation, information only pages can be developed using the web app approach.
Schnell Solutions Limited is award-winning mobile app development company in the UK which has developed several popular businesses and social mobile app including games and mobile stores. From our HQ in Letchworth (30 min from near London by train), we offer mobile app development to London and UK based companies. Our mobile application development experience spans across several verticals viz. Retail, Education, Logistics, Marketing, etc.
If you have a mobile app development requirement, Schnell would love to hear from you.